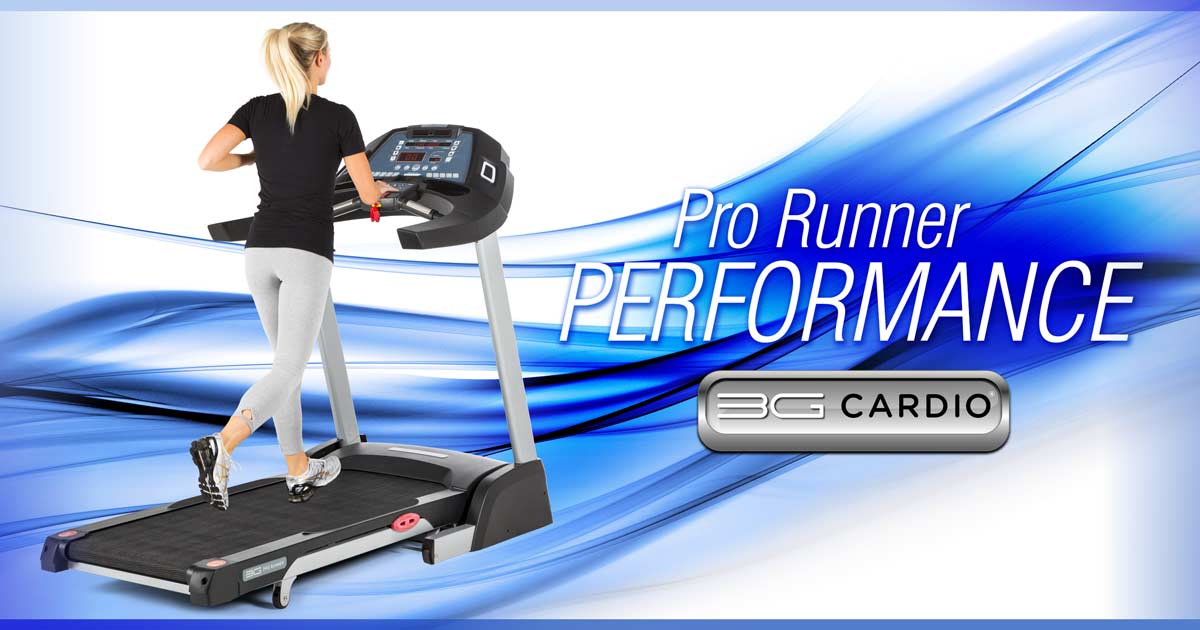 Does it feel like there's a belt lag? Does it feel like the belt slows down when you step on it? Those are signs of an under-powered motor.
The 3G Cardio Pro Runner feels very strong from the minute you start exercising on it, with good cushioning. It has nice, big handle bars that don't get in your way.
The programming is simple, but highly effective. Nowadays everyone wants to throw so many gadgets on a treadmill that a lot of times you can spend more money on the electronics board than you do on the treadmill without even knowing it.
Save Hundreds on Pro Runner!
The 3G Cardio Pro Runner Treadmill packs great power and stability – DC 3.0 hp motor, 20.5×58 belt size, max user weight 350 lbs – into a machine that retails for just $2,499, but is on sale today »
Pro Runner Treadmill offers the performance of comparable models that sell for up to twice the cost.
Despite focusing more on the function of the treadmill, you still get top quality built-in programs with the 3G Pro Runner. It has all the necessary programs you need and nothing you don't. With several built-in pre-programmed courses, fitness tests, one touch speed and elevation settings, heart rate control and the ability to custom create your own workouts, you will never become bored or overwhelmed when it comes to your programming options.
If you want to spruce up the workout experience, simply hook up your iPad to it for more programming entertainment and options.
The 3G Cardio Pro Runner is great for people who need to conserve space. While there are many folding treadmills on the market today, the Pro Runner Treadmill offers users the unique ability to have a high quality treadmill and a space saving treadmill all in one.
With high quality components such as an Ortho Flex Shock™ suspension system, 3.0hp motor, 5 years parts warranty and a space saving design, the 3G Cardio Pro Runner Treadmill is a fantastic choice for walkers and for runners alike!
The 3G Cardio design team is led by co-owners who have 50 years combined experience in the Health and Fitness industry and already have an award-winning lineup of vibration training machines on the market.
Shop Pro Runner Treadmill