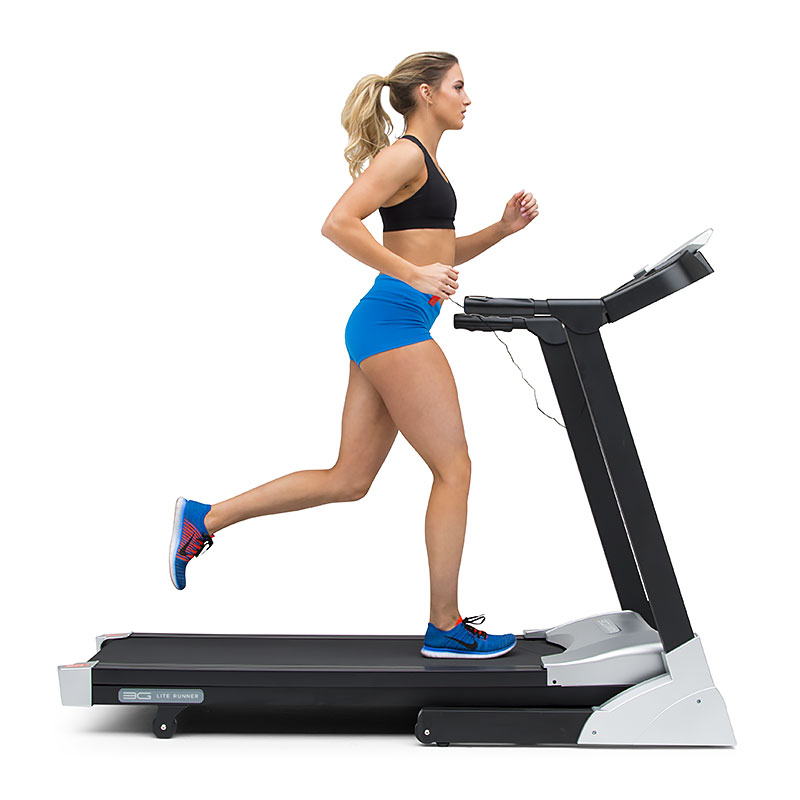 The trend for manufacturers of treadmills has been to keep making them bigger, longer and wider. And, load up the electronics with fancy bells and whistles. All of those factors have also continued to drive up prices.
Did you know a small, less expensive compact treadmill can be just as good for walking and light jogging?
That's the case with the unique 3G Cardio Lite Runner Treadmill (MSRP $1,499, introductory special sale price $999). 3G Cardio's "Mighty Mini" is one of the best treadmills priced under $1,000 you'll find anywhere.
If a person wants a treadmill for walking or light jogging, they don't need the big, bulky machines that have flooded the market in recent years.
Unlike most treadmills priced at $1,000 or under the 3G Cardio Lite Runner has an extremely sturdy frame and belt and powerful motor. It doesn't stall or lag when you walk or jog on it, which is the case for most other less expensive treadmills.
If you've ever used a cheap treadmill and felt it lag or stall, that's because the motor is not strong enough to support you.
The 3G Cardio Lite Runner's 2.5 High Torque Motor is strong enough to create a consistent belt speed. The Lite Runner is specifically designed for walking, which can actually draw more amps and put more stress on a treadmill motor than running because when a person walks on a treadmill their feet remain in contact with the treadmill belt for a longer period of time than when running.
However, the 3G Cardio Lite Runner is specifically engineered with a higher torque / lower horsepower combination to ensure a smooth and consistent speed and feel on the 18 1-2 x 51 1-2 treadmill belt while walking at a lower mph.
The result is a smooth, powerful feel while walking or jogging that far exceeds similar-priced department store brands on which the user can actually feel the treadmill belt slow down and speed up on its own. When you walk at a slower speed or jog on the 3G Cardio Lite Runner, the belt speed will remain powerful and steady under your feet.
Many people also really appreciate the smaller footprint of the 3G Cardio Lite Runner. If you just want to walk on a treadmill, or even do light jogging you don't need a big area. Manufacturers add unneeded extra space for more than just the frame or belt size, like over-sized consoles. The reality is it just doesn't need to be that big.
The 3G Cardio Lite Runner measures just 67 inches (length) x 29 3-4 (width) x 52 1-2 (height). It an be folded up to just 32 x 29 3-4 x 62 1-2 and rolled through most standard doorways for storage without having to disassemble.
The Lite Runner can be inclined, speeds can easily be changed, there are built-in speakers that electronic devices can be hooked up to and a hand-held heart rate sensor.
3G Cardio prides itself on designing treadmills to fit a variety of needs, which are priced competitively by putting functionality over fancy electronic extras. The Lite Runner continues a tradition that has earned the company numerous Best Buy awards and 5-star ratings on amazon.com.
An outstanding warranty will cover the Lite Runner for the lifetime of the motor and frame for home use and three years for parts and one year for labor.