19 Oct

Fit Prof gives 3G Cardio AVT 3.0 Machine Best Buy Award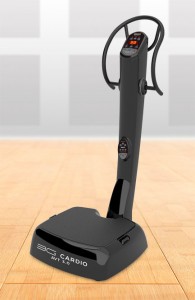 Whoever said big things can come in small packages could have been talking about the 3G Cardio AVT™ 3.0 Vibration Machine (MSRP $2,499)
Smaller and less expensive than the best-buy award winning 3G Cardio AVT 5.0 ($3,999 MSRP) and 6.0 Vibration Machines ($4,999), the 3.0 AVT still delivers high-end quality and power at a great value compared to similar models.
With a unit weight of 200 pounds and vibration platform size of 24×24, the 3G Cardio AVT 3.0 Vibration Machine is rated for use for people weighing up to 350 pounds.
A powerful motor can produce between 25-50 hertz vibrations and the machine comes with four pre-programmed workouts.
The 3G Cardio AVT™ 3.0 Vibration Machine recently won a Best Buy Award from a third different review site when the esteemed Fitness Professor awarded it the top honor in the business.
"Take a look at AVT units from 3G Cardio and you will understand why they are the FIT PROF Head of the Class BEST choice for vibration trainers," the Fitness Professor said.
Vibration training machines are the fastest growing segment of the fitness industry and the 3G Cardio AVT™ 3.0 Vibration Machine will allow a whole new segment of people to bring a phenomenon that's here to stay into their homes.
"Vibration plates have been around for a number of years now, and although there are a variety of different brands available, the category has been dominated by a well known health club brand – until now," The Fitness Professor said. "With over 50 years of combined experience and a very impressive line of vibration plates, 3G is rapidly becoming one of the most sought-after product lines in the industry."
The 3G Cardio AVT™ 3.0 Vibration Machine comes with an outstanding warranty – 2 Years Parts, 1 Year In-Home Labor – and can power up to 50Hz.
It has four programs, adjustable hand straps and a removable dampening pad to further control the amount of vibrations you want.
ABOUT VIBRATION TRAINING – Vibration training machines create instability, which the body senses and reflexively contracts muscle tissue involuntarily to stabilize and react to the stimuli.
The result is all three types of skeletal muscles are instantaneously called into service because of the near-immediate level of fatigue. No longer is there a "progression of muscle fatigue" as in normal
strength training.
AVT, also known as Whole Body Vibration Training (WBV or WBVT), can work up to 95 percent of the muscle fibers, compared to as little as 20 percent with standard equipment.