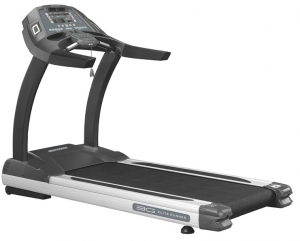 The 3G Cardio Elite Runner Treadmill allows people to bring all of the sturdiness and quality of a commercial treadmill into the home at a price that's affordable for many household budgets.
Elite Runner Treadmill offers health club quality
The 3G Cardio Elite Runner gives people the most affordable chance they might come across to bring the quality of a health club treadmill into their own home.
With a design that the 3G Cardio team terms "simple and effective," the 3G Cardio Elite Runner Treadmill puts the emphasis on the actual running and walking experience instead of jacking up the price $1,000s more with fancy electronics that really aren't needed.
Basically, 3G Cardio has designed a treadmill the way the average person would if they were allocating where the money should go.
The 3G Cardio Elite Runner Treadmill retails at $3,999 and compares with elite, high-end treadmills for performance and functionality at a fraction of the cost of comparable models.
A strong DC 4.0 hp motor on the 3G Cardio Elite Runner Treadmill powers a big 22×62 belt. The machine weighs 386 pounds after being assembled and can accommodate users weighing up to 400 pounds. Run on it once and you'll be sure to agree it's as solid as treadmills get. You can feel secure about your investment with a fantastic warranty for the 3G Cardio Elite Runner Treadmill of 10 years on parts and two years on labor is as good as it gets.
Although many comparable machines have fancier electronics, and much higher prices, the 3G Cardio Elite Runner Treadmill has all the necessary built-in programs you need — and nothing you don't.
There are several pre-programmed courses, fitness tests, one touch speed and elevation settings, heart rate control and the ability to custom create your own workouts, you will never become bored or overwhelmed when it comes to your programming options. Listen to music through the 3G Cardio Elite Runner built-in speakers and cool down with a multi-speed fan.
You will continue to be challenged without having lots of complicated programs to figure out. For users who like more entertainment in their workout experience, hook up an iPad to upgrade the interactive possibilities. If you don't have an iPad, you could buy one and still save lots of money in the long run over the prices competitors charge for high-end treadmills with built-in, elaborate electronic systems.
The 3G Cardio design team stated, "Our feeling on a treadmill is you don't need to spend a lot of money on fancy entertainment features because you have that already on your iPad.
"With our new treadmills, all your money is going toward a top-quality machine. You're paying for the quality and feel of the treadmill that you want. The programing is simple compared to some other models, but you get everything you need and if you want more entertainment put your tablet on there."