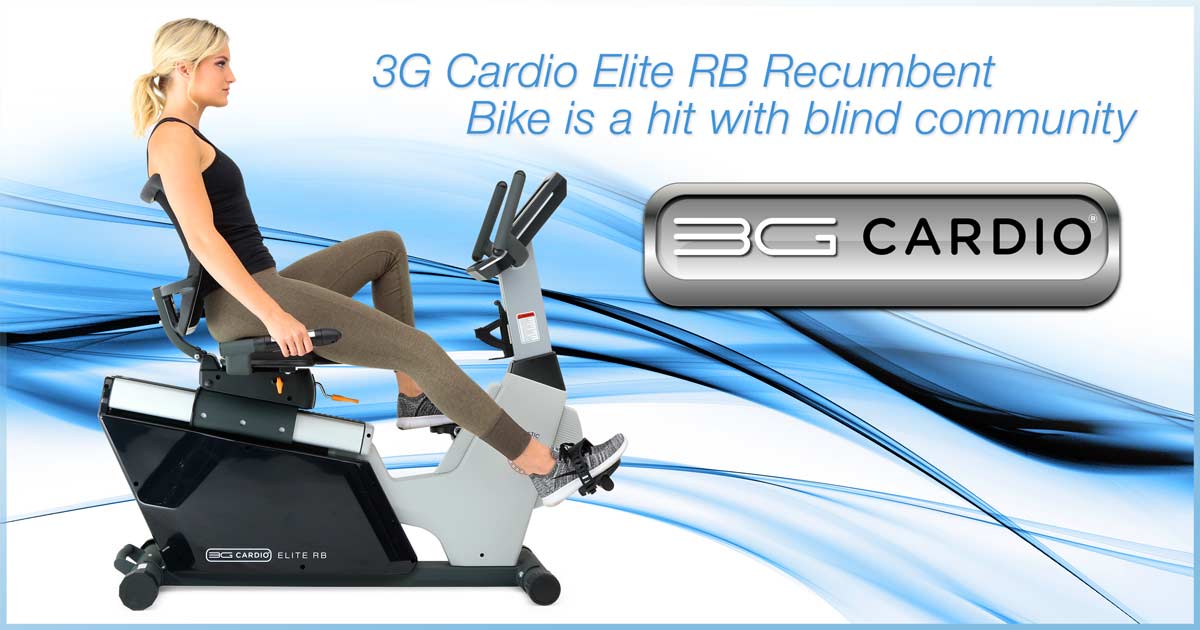 Illinois woman shapes up, finds camaraderie thanks to 3G Cardio Bike
By AARON DORKSEN – 3G Cardio Fitness Editor
Rita Howells is as funny as she is smart.
This fall she's using those traits, as well as a 3G Cardio Elite RB Recumbent Bike to improve her fitness level and having fun doing it.
The retired vocational rehab services worker has been blind for most of her life, but has never let that slow her down. In fact, Howells gives others in the blind community tips on accessibility through her popular online blog "Rita's iDevice Advice."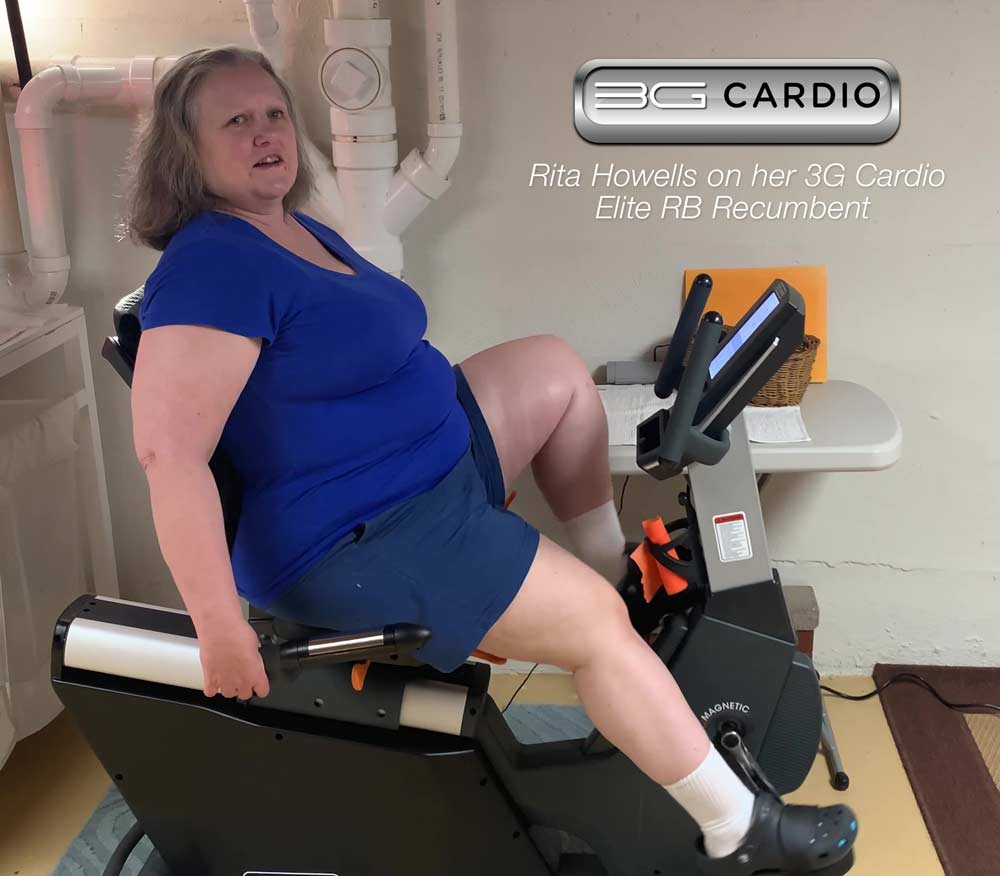 The Illinois resident said she did a lot of sitting during a 33-year career with the Illinois Department of Rehabilitation Services, which she jokingly sometimes refers to as the Illinois Department of Confusion.
Fortunately, Howells found the 3G Cardio Elite RB Recumbent Bike. And, she highly recommends it, especially to others in the blind community.
The 3G Cardio recumbent bike has thoroughly impressed Howells in many ways, ranging from comfort, value and its quiet performance, to thrilling her with how easy it is to use as a blind person.
Howells has a good sense of humor as she talks about the challenges of trying to improve her fitness level.
"We say my weight is not a problem, it's all behind me now," Howells joked during an appearance on the highly informative "Blind Abilities" podcast hosted by Jeff Thompson, where she discussed her experiences using the 3G Cardio recumbent bike. "I sat through a lot of meetings, ate way too many doughnuts and pastries, so I gained a lot of weight in my career. I've been retired several years and just haven't seemed to have lost the weight."
Howells had exercised outdoors on a tandem bike steered by a sighted partner, but when the COVID-19 pandemic hit in March she wanted to find an indoor exercise bike.
Howells thought she found the answer with an exercise bike highly touted for use by blind people, but then discovered it was an upright bike. She wanted a recumbent bike, which is easier on the joints and has a chair-like seat that can be slightly reclined to offer back support.
After a long research process, online reviews led Howells to find the award-winning 3G Cardio Elite RB Recumbent Bike (MSRP $1,599) and she's grateful for deciding to purchase it. The 3G Cardio bike has lived up to reviewers touting it as the "most comfortable recumbent bike you'll ever use."
In a phone interview with this blogger, Howells started by complimenting the 3G Cardio recumbent bike for providing a smooth, quiet ride.
"I'm just really pleased overall with the 3G Cardio bike," Howells said. "The lack of sound when I'm using it is great. It is quiet, which is really important to a blind person.
"The ergonomics of the bike work really well, and it's easily adjustable for different heights. I'm not only visually challenged, but vertically challenged. I'm short and heavier, but I was able to move the seat into the position that would work best for me. "
Howells has battled back pain and arthritis in recent years, but rides the 3G bike four times a week for up to one hour per workout.
"You truly do get what you pay for with this kind of thing," Howells added. "If you buy a $200 bike, you're going to have a lesser experience.
"I was willing to make an investment in this bike because it's an investment in my health."
COMPATIBLE FOR THE BLIND
Howells said she got outstanding customer support from a 3G Cardio representative while asking a bevy of questions. A representative for HALOS, which makes tactile overlays to help blind people use flat panel display screens, said the 3G Cardio recumbent bike is highly compatible without much adaptation needed.
"(The HALOS representative) did an overlay for a treadmill for someone, and it was the coolest thing," Howells said. "It was like a rubberized mat, which covered the panel and (a blind person) can tap the markings all over for different (functions)."
After Howells purchased the 3G Cardio recumbent bike, the HALOS associate looked up the model number and came back with good news.
"She said, 'Well, a lot of it's already accessible because there are tactile buttons that actually beep when you press them," Howells recalled. "The start button beeps. When pressing the buttons to change the tension level from 1 to 16, you can count the beeps as they go. Then, it comes in again and makes some neat sound for when you know you're at your highest level, or your lowest low. I was really impressed with that."
The small footprint of the bike measures just 49 inches x 27, with a height of only 43 inches.
"It's small, but sturdy," Howells said. "I also really like the Q-factor pedal spacing, which makes it easy to get on and off."
The unique Q-factor pedal spacing helps make it a bike that people of nearly all shapes and sizes can use with great comfort. The 3G Cardio Elite RB Recumbent Bike fly wheel is located under the seat, a design that enables the width between the pedals to be narrower than other bikes on the market. That helps provide much better comfort. It's also more comfortable to pedal.
Most recumbent bikes have the fly wheel under the pedals, which requires a wider space.
The 3G Bike also features a 3-way adjustable mesh back seat rest and super comfortable seat pad.
INDOOR BIKE CLASS – ON A RECUMBENT BIKE
Howells feels so comfortable on her 3G Cardio bike that she's joined a Zoom indoor cycle class.
"With healthy blind women – and me on a recumbent bike," she said, followed by a hearty laugh.  "Oh my God, they're unbelievable. Some of them have been in the Paralympics
"If I tried doing what they do, it would kill me. They're standing up (on upright bikes) and they're sprinting."
The online instructor, Kris, as well as the rest of the group offer support for one another no matter what the fitness level. Rita's husband, Tony, sets up the phone so that Kris can see her. All of the riders can talk and listen to one another through Zoom.
"I really encourage people to start their own groups – Facetime or Zoom – where you can get online with each other, play some music and encourage each other to move your bodies," Howell said.
Howells said she can work out at Level 7 or 8 on the 3G recumbent bike during the indoor cycle classes.
"There's like eight of us, and Kris loves interval training," she said. "She'll have us pedal really hard, where you almost can't breathe and then back off for 30 seconds and then go hard again. I'm able to pedal for 15 minutes up to an hour. I'm sweating, which is good, but I'm not exhausted."
The hard work is already paying off for Howells, who said her balance when walking has improved thanks to the bike work.
Tony Howells has noticed that his wife has a new-found interest in exercising.
"It's really made her happy, especially with the indoor cycle group," he said. "It's something she looks forward to, instead of dreading."
Rita Howells isn't going to go as far as to say she "loves" exercising on the 3G Cardio Recumbent Bike.
"It's something I will keep doing," she said. "I don't hate it. I'm not in love with exercise yet, but once I'm done I feel really good. You know that 'wow I did this' feeling."
Rita Howells' interview on 3G Cardio Elilte RB Recumbent Bike on "Blind Abilities"
Meet Tech Enthusiast Rita Howells from Rita's iDevice Advice – Taking Accessibility Recumbent Style and Sharing 33 years of Tech Know-How