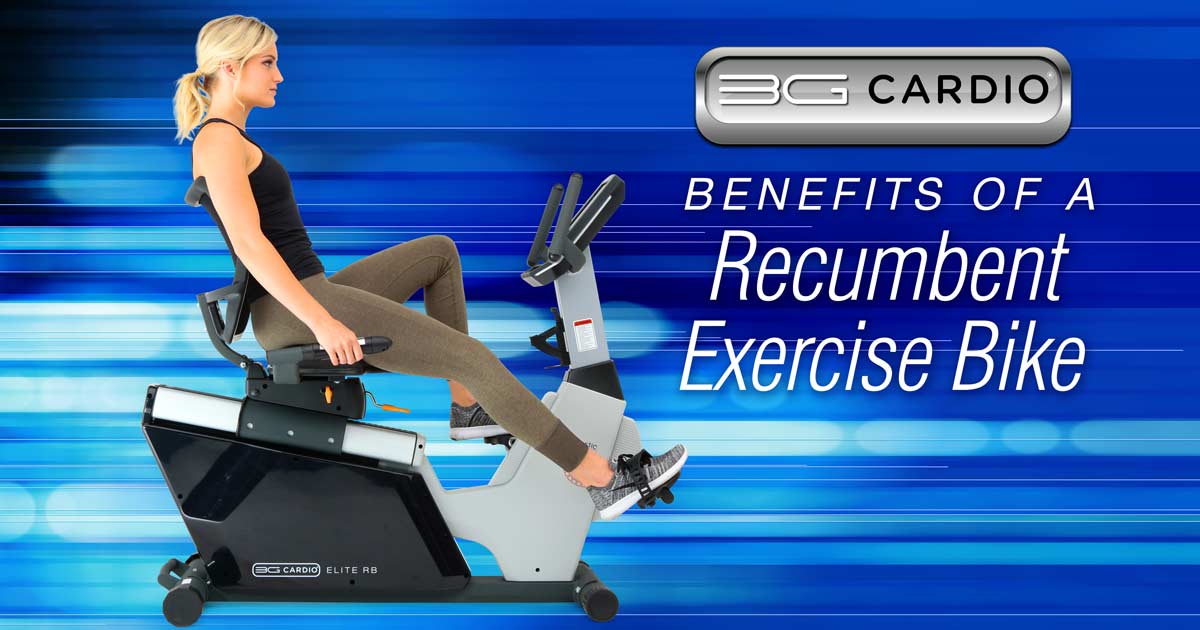 By AARON DORKSEN – 3G Cardio Fitness Editor
There are many benefits to using a recumbent bike, but the biggest one is it gives people who struggle with joint, back or weight problems an excellent way to exercise.
However, a recumbent bike is also a great way to exercise for people who are in good shape and in many cases people can ride longer on it than on upright exercise bikes.
A recumbent bike is a stationary piece of equipment that requires the user to sit back and pedal with their feet out in front of them. Basically, the rider sits into the bike frame, unlike the upright exercise bike on which the user sits well above the frame.
Compared to other pieces of exercise equipment in the gym, people using the recumbent bike might not look like they're accomplishing a whole lot. It may not seem as glamorous as a person sprinting on a treadmill, flying along on an elliptical machine, or even perched high atop an upright bike.
However, if you put in a good effort on a recumbent bike, the results will follow and you may be able to exercise longer and harder than on any of the aforementioned machines.
As is the case with other pieces of exercise equipment, a recumbent bike can allow you to get a good workout if you work hard. If you just pedal at a leisurely pace while reading a magazine, you might not raise your heart rate enough to get a productive cardio workout.
But if you put down the reading material, crank up the intensity and resistance level, the recumbent bike can become a muscle-toning, heart-training machine.
Here are four specific benefits to using a recumbent bike:
COMFORT IS KING
The 3G Cardio Elite RB Recumbent Bike (MSRP $1,799) offers the best combination of comfort, performance and value on the market. It was called by one reviewer, "the most comfortable recumbent bike ever built."
It's a small and compact bike with an assembled size of 49 inches length x 27" width and a height of 43", but it's also extremely sturdy and durable with a 3-way adjustable mesh back seat rest.
The unit weight is 137 pounds and it will support a user weighing up to 350 pounds.
Q-FACTOR
One of the features that people love most about the 3G Cardio Elite RB Recumbent Bike is the Q factor pedal spacing, which can accommodate users of all sizes.
Most recumbent bikes have the fly wheel under the pedals, which requires a wide space. However, the 3G recumbent bike has the fly wheel under the seat, so the width between the pedals is narrower and provides better comfort
VERSATILITY
Bicycleman.com did a good job pointing out the many types of people who can benefit from a recumbent bike in a recent article.
The website listed: "An athlete in training looking for a stamina building recumbent bike; An off season cycling enthusiast looking for a fitness cycle; A PT – Rehab patient recovering from an injury or surgery looking for a belt driven, magnetic recumbent exercise bike for smoothness and reliability; Or just trying to lose some weight and tone your body."
Some people wind up getting sore using an upright exercise bike for a prolonged period of time, so a recumbent bike might ultimately be the best choice even if it doesn't appear so at first.
"The support and comfort offered while sitting in a reclined / recumbent seat position may very well enable you to cycle for longer than you might on an upright, thus getting a better workout and achieving your fitness and/or rehab goals," bicycleman.com pointed out.
SAFETY
Because of the low bucket seat, recumbent bikes are easier on the lower back. An upright exercise bike positions the user over the handle bars, but a recumbent bike allows for better spinal posture.
With the lower back supported by the bucket seat, the knees and ankles are also better protected from impact. It's impossible for someone to stand on the pedals on a recumbent bike, which lowers the impact on your knees and ankles.
The 3G Cardio Elite RB Recumbent Bike's Q factor pedal spacing, which can accommodate users of all sizes, makes it extremely easy to step on and off.
NOTE: Consult a doctor or certified fitness trainer before starting any new workout program to determine if it's right for your needs. This is especially true if you (or your family) have a history of high blood pressure or heart disease. If you experience faintness, dizziness, pain or shortness of breath at any time while exercising you should stop immediately.