The 3G Cardio Co. is able to bring health club quality to home gyms at an affordable price with the 3G Cardio Elite Runner Treadmill for one basic reason: It has all the necessary built-in programs you need and nothing you don't.
3G Cardio's treadmill belt, motor and frame are comparable to health club machines and the basic electronics are pretty good, too.
With several pre-programmed courses, fitness tests, one touch speed and elevation settings, heart rate control and the ability to custom create your own workouts, you will never become bored or overwhelmed when it comes to your programming options.
The 3G Cardio Elite Runner Treadmill (MSRP: $3,999) is a health club quality machine and measures right up to treadmills that cost $1,000s more. It's powered by a DC 4.0 hp motor, which drives a 22×62 orthopedic belt on a machine that has a max user weight of 400 pounds.
While the electronics are simpler than higher-priced, comparable treadmills, the console gives you everything you need to have a great workout experience.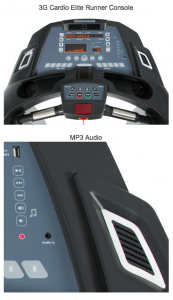 Enjoy your music through the built in speakers and cool down with the multi speed fan. Try connecting your tablet and enjoying surround sound while watching your favorite movie or TV show.
Whether you are a casual walker or an avid runner, the 3G Cardio Elite Runner treadmill has you covered.
This club-rated treadmill comes with a 10-year parts warranty and can transform your home gym into a sanctuary.
3G Cardio is based out of Phoenix and our products are carried all over the U.S. Check our dealer locator for a store near you, or shop us online at 3gcardio.com.