The 3G Cardio Co. followed a simple, yet highly effective plan that resulted in earning "2016 Treadmill Brand of the Year" from the Fit Prof, five-star ratings from Amazon.com and many other honors.
Based out of Phoenix, Ariz., the designers at 3G Cardio build their treadmills the way most people would: They providing everything you need, and nothing you don't.
The emphasis is on superior function of the treadmill, not on fancy electronic "extras."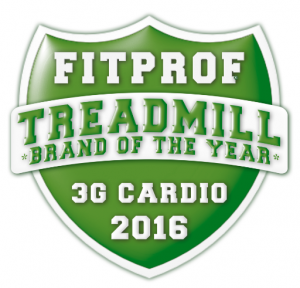 The "simple by design" philosophy means the emphasis for 3G Cardio treadmills is on high quality components such as an Ortho Flex Shock™ belt and suspension system. They are just as good as what you'd find on other treadmills that sell for thousands more.
The motors are the real deal, but just as importantly the engine's high quality torque provides as smooth a run as many leading commercial treadmills. You can comfortably incline the treadmills and run at top speeds.
Horsepower of a treadmill engine is cited lots of times in evaluating treadmills, but it can be misleading because if the engine's torque is poor you'll feel the belt pause, slip or lag. No one wants to run on a shaky, flimsy treadmill.
When it comes to bells and whistles of the 3G Cardio Treadmills, there are more than enough built-in and custom programs to get you where you need to go.
However, if you want to increase the workout interaction and entertainment, simply upgrade with equipment you probably already own and that's better than what will ever come standard on a treadmill.
Plug in your iPad or tablet for exercise apps, music or videos on a screen you already have that are hundreds of times better quality than any built-in treadmill screen. Or, watch the TV in your workout room rather than forking out unnecessary hundreds or even thousands more for an inferior treadmill console screen and electronics package to what you already own.
Here's a closer look at the trio of 3G Cardio treadmills that have individually each been named "2016 Best Buy Winners" by The Fit Prof:
* 80i Fold Flat (Best Treadmill under $2,000) — The Fit Prof stated: "The 80i Fold Flat treadmill is a perfect example of (3G Cardio's) approach to manufacturing. With its ingenious, dual action folding ability, the 3G Cardio 80i can fold upright into a vertical storage position (like most folding treadmills) as well as fold flat to the floor for storage under a bed. In addition, the console can also be folded while in use for those who prefer to watch television or to have access to their laptop while exercising. Add in an absorbent 58" long surface, 11mph max speed, 0 – 15 incline levels, audio inputs with built-in speakers and one of the best warranties in its category, the 80i Fold Flat 3G Cardio is one of our favorite treadmills, at any price point. This is why it is once again a FIT PROF Head of the Class BEST BUY treadmill and why 3G Cardio is our TREADMILL brand OF THE YEAR for 2016!"
* Pro Runner (Best Treadmill under $2,500-tied) — The Fit Prof says: "The Pro Runner has a 20"x 58" folding running surface features their upgraded Ortho Flex Shock suspension, a 12mph max speed powered by the 3.0HP motor, plus entertainment, fitness testing and programming options qualify this unit as the FIT PROF Head of the Class BEST BUY treadmill under $2,500 (tied) and why 3G Cardio is our TREADMILL brand OF THE YEAR for 2016! Finally, the 3G Cardio Pro Runner is sure to literally fit into your lifestyle. It's a Folding Treadmill that doesn't require much space. The marathon treadmill, high-end 20.5" x 58" Ortho Shock treadmill belt gives you plenty of room to run on, but the overall footprint is just 74" x 35". It's a Fold Flat Treadmill that can easily be put away for storage."
* Elite Runner (Best Treadmill under $4,000) — The Fit Prof says: "The Elite Runner has a 22"x 62" running surface features their upgraded Ortho Flex Shock suspension, a 12mph max speed powered by the 4.0HP motor, entertainment and programming options plus one of the best warranties in the category qualify this unit as one of the best treadmills on the market. These features, along with many more, also make the 3G Elite Runner the FIT PROF Head of the Class BEST BUY treadmill under $4,000 and why 3G Cardio is our TREADMILL brand OF THE YEAR for 2016."