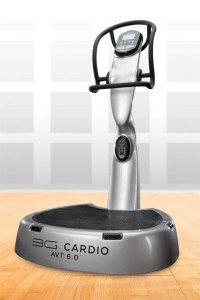 This Thanksgiving weekend 3G Cardio gives people wanting to bring vibration training into their home, gym, workplace or wherever else they want to work out three reasons to be thankful.
The 3G Cardio AVT 3.0, 5.0 and 6.0 Vibration Machines have all earned "Best Buy" awards from three major independent review sites: www.vibration-machine-reviews.com, www.vibrationplatereview.com and the Fitness Professor.
Earlier this year the 3G Cardio AVT 3.0 Vibration Machine was unveiled at the 2012 Health and Fitness Expo & Business Trade Show held at the Sands Expo & Convention Center in Las Vegas.
The 3G Cardio 3.0 AVT Machine ($2,499 MSRP) is smaller and less expensive than the best-buy award winning 3G Cardio AVT 5.0 ($3,999 MSRP) and 6.0 Vibration Machines ($4,999), but the 3.0 AVT still delivers high-end quality and power and great value compared to similar models.
With a unit weight of 200 pounds and vibration platform size of 24×24, the 3G Cardio AVT 3.0 Vibration Machine is rated for use for people weighing up to 350 pounds. A powerful motor can produce between 25-50 hertz vibrations and the machine comes with four pre-programmed workouts. There are adjustable hand straps and a removable dampening pad to allow even more control on just how strong the vibrations are.
The 6.0 AVT features an oversized platform and with an overall unit weight of 267lbs is extremely durable. It's the top of the line as far as vibration training goes. It has an adjustable frequency range of 30-50 Hertz and good options for customizable programming, great overall feel with a comfortable and powerful vibration level and easy to hold upper handles. Independent reviewers have said this machine compares very evenly with machines priced many $1,000s more. The 34×28 vibration platform is actually the same size as a well-known vibration machine that sells for $12,000.
The 3G Cardio AVT 5.0 Vibration Machine has a vibration platform size of 28″ (width) x 23″ (depth) and a machine weight of 222 lbs. There are 24 pre-programmed workouts. It's a great choice for people who don't need quite as much room or power as the 6.0 provides.
Vibration training machines are the fastest growing segment of the fitness industry.