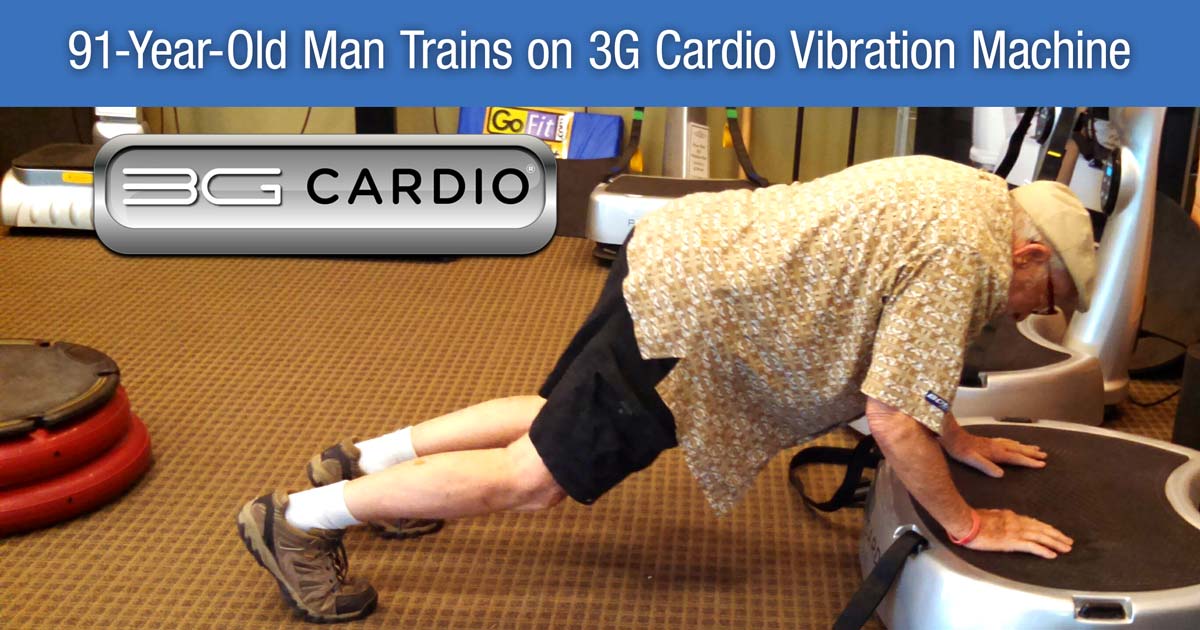 24 Feb

100-year-old woman, 91-year-old man train on 3G Cardio Vibration machines

World War II veteran Gerard Dufresne is living proof of the famous saying by the late Baseball Hall of Famer Satchel Paige: "Age is mind over matter. If you don't mind, it don't matter."

At 91 years young, DuFresne stays fit in part thanks to his regular exercise on a 3G Cardio Vibration Machine.

Chris James of VimTrim Personal Training in Arizona has an even older client who uses a 3G Cardio Vibration Training machine.

"Squats at 100 years old!!! Now none of us have any excuses!" Hall posted on Facebook on Jan. 25, 2016 in Chandler, Ariz., after assisting a 100-year-old woman who was exercising on a 3G Cardio Vibration Machine.

More and more people every day are turning to accelerated vibration training for great fitness and health results. 3G Cardio is one of the leading brands in the world for these incredible machines that are used by everyone from pro athletes, to senior citizens and even rehab patients.

A recent "Men's Journal" article really shined a positive spotlight on vibration training. Vibration machines produce G-forces that cause the muscles to react to the instability while standing on the platform and contract thousands of times per minute.

The result is a workout that's easier on your joints and ligaments than traditional weight lifting, but one that forces your body to become leaner to deal with the constant force.

"Simulated G-forces can also help build bone density, boost circulation, and improve balance," the Men's Journal article reported, adding that vibration platforms have also proven effective in helping people with osteoporosis and muscular disorders.
Vibration-machine-reviews.com recommends these leading vertical style vibration plate brands: Power Plate, 3G Cardio, Powervibe, DKN and BH Fitness. These are the types of vertical motion machines that half the NFL teams use, as well as a growing number of college teams.
Pierre Dufresne, who's a store manager for At Home Fitness in Arizona and an avid workout enthusiast, is a huge believer in the benefits of 3G Cardio Vibration training machines. Pierre exercises regularly on them, sells them to customers on a regular basis and actually trains his 91-year-old father, Gerard, on them.
"My dad has had four weeks of training (on a 3G Cardio Vibration Machine), two to three times per week, five to eight minutes per session," said Pierre, of the former Navy Seabees member, who saw action in the Pacific Theatre during WWII. "He was instructed to do granny push-ups, but just kicked out eight plank pushups on his own. It also improved his natural gait and helped correct his posture as we were focusing on balance/synaptic reconnect training."
According to vibration-machine-reviews.com, 3G Cardio produces high-quality vibration machines that are capable of producing the high G-forces necessary to provide a worthwhile workout.
The 3G Cardio AVT™ Vibration Machines – available in 3.0, 5.0 and 6.0 models – provide all of the power, sturdiness and ease to use of leading competitors, but at about half the price.
With those kind of attributes going for 3G Cardio Vibration Trainers, it comes as no surprise that the following reviewers have given the company based out of Phoenix, Ariz., Best Buy awards:
* The Fitness Professor
* Vibration-machine-reviews.com
* vibratationplatereview.com
The 3G Cardio 3.0 (MSRP $2,499), 5.0 (MSRP $3,999) and 6.0 machines (MSRP $4,999) give people the chance to experience all the benefits of vibration training, but at a much lower cost than some other comparable machines. Check the 3G Cardio website for special sale prices.
Among other positive studies on vibration training, research published in the American Journal of Physical Medicine and Rehabilitation found that the group using vibration training in an eight-week experiment experienced significant improvements in flexibility, muscle strength and vertical leap. No significant changes were found in the control group.
In another article reported in PLOS ONE in Germany, researchers demonstrated that vibration training can provide significant complementary benefits in young, well-trained adults compared to training programs that do not include whole body vibration exercises.
Go into a specialty fitness store at hundreds of locations throughout the U.S. and try out a 3G Cardio Vibration Training machine to learn more about vibration training. Visit 3GCardio.com to find a dealer near you.