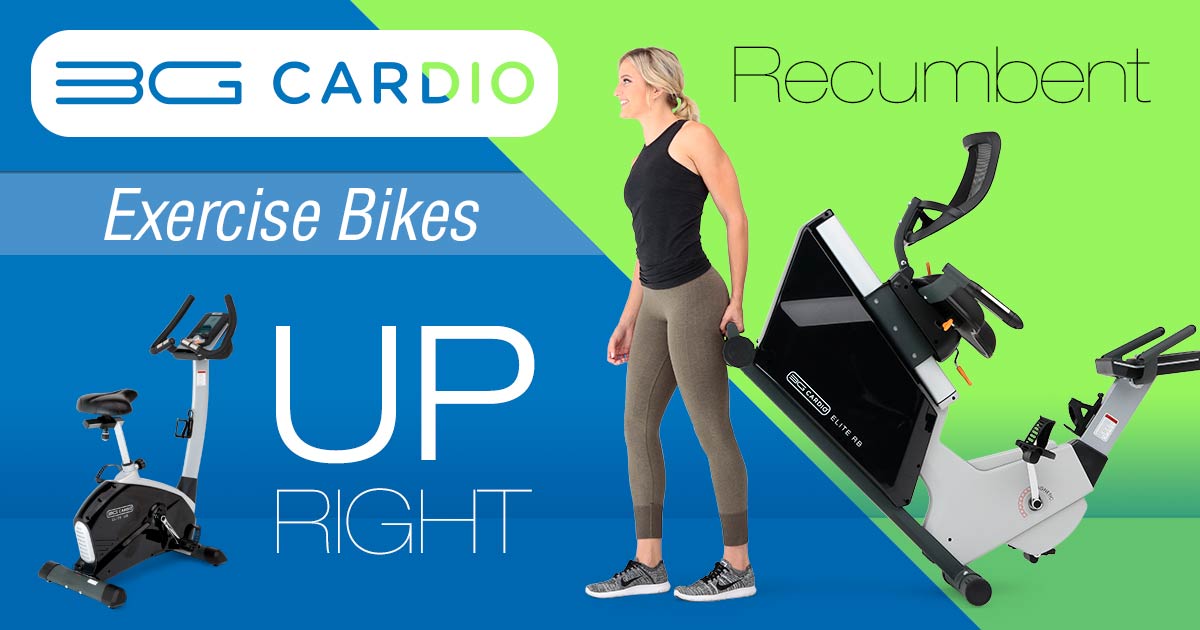 Whether you want a Recumbent or Upright Exercise bike, 3G Cardio knows that One size does not fit all when it comes to exercise bikes.
Whether you choose a recumbent or upright exercise bike, 3G Cardio has you covered with an extremely well-built, competitively priced exercise bike.
Comfort is King with both the 3G Cardio Elite RB Recumbent Bike (MSRP $1,799) and 3G Cardio Elite UB Upright Bike (MSRP $1,299).

3G Cardio Elite RB Recumbent Bike
The 3G Cardio Elite RB Recumbent Bike has been called "the most comfortable recumbent bike ever built."
Recumbent bikes are generally considered to be more comfortable than an upright bike, but they are both excellent options. If you're not sure which style fits you best, it's highly recommended to test ride both styles. The more you like your stationary exercise bike – the more often you will likely be to use it. And that is what matters most.
The 3G Elite RB Recumbent Bike is small and compact, but it's also extremely sturdy and durable with a 3-way adjustable mesh back seat rest. One of the features that people love most about the 3G Cardio Elite RB Recumbent Bike is the Q factor pedal spacing, which can accommodate users of all sizes. Most recumbent bikes have the fly wheel under the pedals, which requires a wide space. However, the 3G recumbent bike has the fly wheel under the seat, so the width between the pedals can be more narrow and provide better comfort.

3G Cardio Elite UB Upright Bike
The 3G Cardio Elite UB Upright Bike has a heavy duty steel reinforced upright column to provide strength and stability. A compact step-through frame allows users to get on and off the bike with ease. An oversized, fully adjustable seat provides optimal comfort and stability.
Both 3G Cardio exercise bikes have transport wheels and can be easily moved from room to room with the built-in transport handles. The bikes also come with heart straps compatible for wireless heart rate monitoring, and have an integrated SmartFan for keeping you cool.
Small upper electronics displays makes it easy to see over and around and best of all, you can watch a TV on the wall. Both bikes have outstanding residential warranties: Lifetime guarantee on frame, 7 Years parts warranty and 1 year in home labor.
You will look forward to using these exercise bikes day after day!
3G Cardio has won countless accolades for its treadmills and vibration training machines and the exercise bikes are the newest additions to the Arizona based company's All-Star lineup.